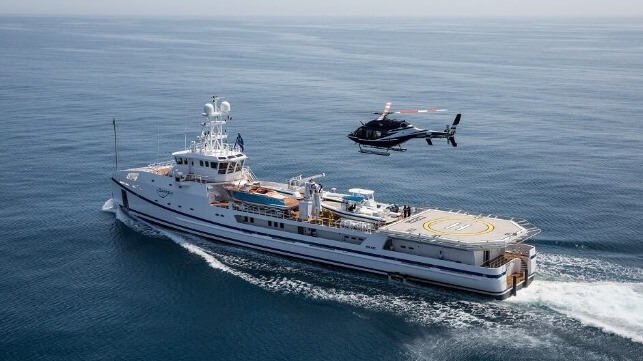 Antigua discovers two more yachts owned by oligarch Roman Abramovich
The government of Antigua has confirmed that two yachts in its waters are linked to Russian oligarch Roman Abramovich, who is under British sanctions in connection with the Russian invasion of Ukraine. They are the third and fourth yachts to be publicly linked to Abramovich, Russia's second richest man.
Abramovich made his fortune in the rush to privatization after the end of the Soviet Union. He owns Millhouse Capital, an investment firm with assets in Russia's heavy industry, including stakes in Norilsk Nickel and steelmaker Evraz. In the West, he is best known as the owner of Chelsea FC football club, which he tried to sell for around $5 billion shortly before sanctions were imposed. Over the past month, he has reportedly been engaged in mediating peace talks between Ukraine and Russia.
His ships in Antigua are the superyacht Halo and the support ship Boy, and they're valued at around $40 million and $20 million respectively, according to the FT. Garcon is a support vessel, designed to carry equipment and spare parts for a larger megayacht. The newspaper has confirmed that the government of Antigua and Barbuda has been in contact with UK authorities over the status of the vessels, and discussions about the possibility of a seizure of the assets are ongoing.
Abramovich owns at least two other yachts, both much larger. The $700 million Eclipse is one of the largest yachts in the world, and at 550 feet long and with 24 cabins, she is closer to an expedition cruise ship. She operates with a crew of 70 and would be equipped with a missile defense system.
The $600 million Solaris is slightly smaller but more modern in design. Both Solaris and Eclipse are currently moored in Turkey, where authorities have so far chosen not to enforce Western sanctions against Russia.
However, the pier where Solaris is moored is owned by Global Ports Holding, a London-based company potentially exposed to UK sanctions. "If we advised [Global Ports Holding]we would say, 'Stop, you have to do a number of checks,'" Michael Biltoo, a partner at British law firm Kennedys, told the FT.