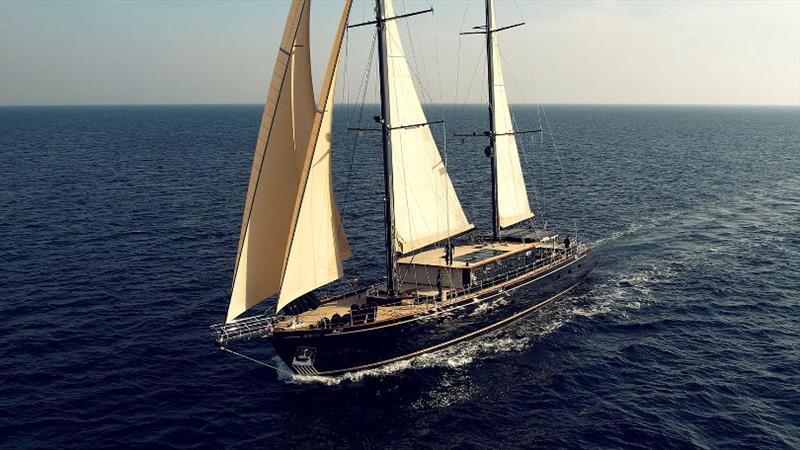 Miti Navi Yachts launches 34m sailing superyacht MiTi One
Miti Navi Yachts launches 34m sailing superyacht MiTi One
by Miti Navi 19 Dec. 2021 00:32 PST


The 34 meter sailing superyacht "MiTi One" has been launched and delivered and is now en route to the French Riviera where she will be for sale and available for inspection.
Her technical launch on the water took place in August and was followed by intensive sea trials and commissioning before handing over to the owning company in November.
MiTi One is the first of 'MiTi Navi' series of semi-production sailing yachts built in steel and intended to combine European standards of construction management, equipment and superyacht luxury with traditional Turkish craftsmanship.
Designed and overseen by a multinational team, the MiTi NaVi series includes 26, 34, 42 and 50 meter sailing yachts, all featuring in-house naval architecture and design, aimed at the cruising sailing superyacht market top of the line.
Constructed of high quality steel at the renowned Bodrum Oguz Marin shipyard in Bodrum, Turkey, and with unlimited long range blue water cruising, the 34m steel sailboat "Miti One" is built to RINA class for Comply with Maltese Unrestricted Commercial Shipping. . The focus is on high quality, reliable systems and long periods at sea in safety and comfort. Delivery is scheduled for June 2021.
MiTi One has an impressive volume of 198 GT and carries 11 guests in five cabins with a crew of 4 to 6 people. Her main saloon houses a port side saloon with a starboard formal dining area and bar when guests enter inside from the aft deck.
Sleek wood paneling is throughout, paired with deep-toned upholstery and leathers.
A second shaded dining area is on the aft deck with an alfresco lounge and swim platform just steps away.
In addition to carrying 520 square meters of sail in ketch configuration, her two 450 hp Baudouin diesel engines give her a cruising speed of nine knots under engine with a range of over 2,000 nautical miles.
Solar panels work to minimize overall consumption on board, along with a Haman wastewater treatment system, helping to preserve the environment.
MiTi One is on sale with Central Agents Yacht & Villa at an asking price of 6,750,000 euros and will be available for viewings on the French Riviera.

Characteristics
Brand: MitiNavi
Model: 34m
Year: 2021
Length: 34m 6cm
Class: Cruiser
Hull Material: Steel
Width: 8m 40cm
Boat location: Cannes, Alpes-Maritimes, France
Name: MiTi One
Cabins: 5
Heads: 5
Fuel Type: Diesel
Maximum speed: 13 knots
Maximum draft: 2 m 99 cm